Key figures of maritimetransport in Finland
During 2021, the goods volume of foreign sea transport was in total 94.1 million tonnes. Of this, transit transport made up nine per cent, or 8.2 million tonnes. General cargo was transported most, 17.3 million tonnes, followed by 10.8 million tonnes of oil products. The types of goods imported most, general cargo and crude oil, accounted for 39 per cent of all goods imported by sea. Most exports were of general cargo, paper and oil products that formed 44 per cent of all goods exports in sea transport. The busiest ports for goods transport were Sköldvik, Helsinki, HaminaKotka, Kokkola and Hanko.
the transport performance of foreign sea transport totalled 222.1 billion tonne-kilometres. The transport performance of exports amounted to 152.7 billion tonne-kilometres and that of imports to 69.4 billion tonne-kilometres. In all, 71 per cent of goods imported by foreign sea transport came from countries in the Baltic Sea area and only six per cent from other than European ports. Altogether 50 per cent of export goods were exported to the Baltic Sea area countries and 18 per cent were exported outside European ports. Differences in import and export countries are reflected directly in the transport performance. The transport performance grew by five per cent compared with 2020.
Pandemic still had a strong impact on the number of passengers in foreign sea transport. A total of 6.2 million persons were transported in passenger traffic in 2021. In all, 3.2 million persons travelled between Finland and Estonia and 2.9 million between Finland and Sweden. Of the passengers in sea transport, 98 per cent travelled on routes to Estonia and Sweden. The number of passengers fell by seven per cent compared to 2020. However, passengers made up only 32 per cent of the level in 2019 prior to the pandemic. In 2021, a total of 1.3 million passenger cars and 9,160 buses and coaches were transported. Transports of passengers' cars increased by one per cent from 2020, but was only 60 per cent compared to 2019. Transports of coaches and buses went up by 11 per cent but the number was still only 23 per cent of the pre-pandemic level.
The Register of Merchant Vessels, in which vessels operating mainly in foreign traffic can be entered, contained a total of 110 vessels in June 2022. Of the gross tonnage of the entire registered merchant fleet, the gross tonnage of the regular merchant fleet accounted for 95 per cent and vessels entered in the Register of Merchant Vessels for 87 per cent. The number of vessels in the regular merchant fleet has increased by five compared to the situation at the turn of the previous year.
You can find more statistics from Statistics Finland.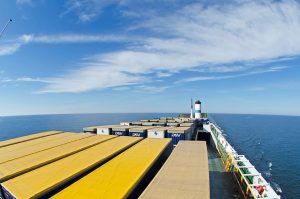 Import and Export
About 90% of Finnish import and export is transported by sea.
The passenger ships transport up to 50% of piece goods imports and 60% of exports.
Passenger ships transport 31% percent of total export and 26% of total import to Sweden
90% of export and import to Estonia is transported by passenger ships.
Emissions from seafaring
The international maritime organization IMO has decided to cut greenhouse gas emissions from shipping by 50% by the year 2050.
The shipping industry, including the Finnish Shipowners, have a goal of achieving net zero emissions by the the year 2050.
90% of goods worldwide are transported by sea and they produce 2,6% of emissions.
The carbon oxide emissions of a large containership are 3g/tkm.
The carbon oxide emissions of a cargo ship are 7,7 g/tkm.
Respectively the emissions per plane are 435 g/ tkm and 80g/tkm per lorry.
European Key Figures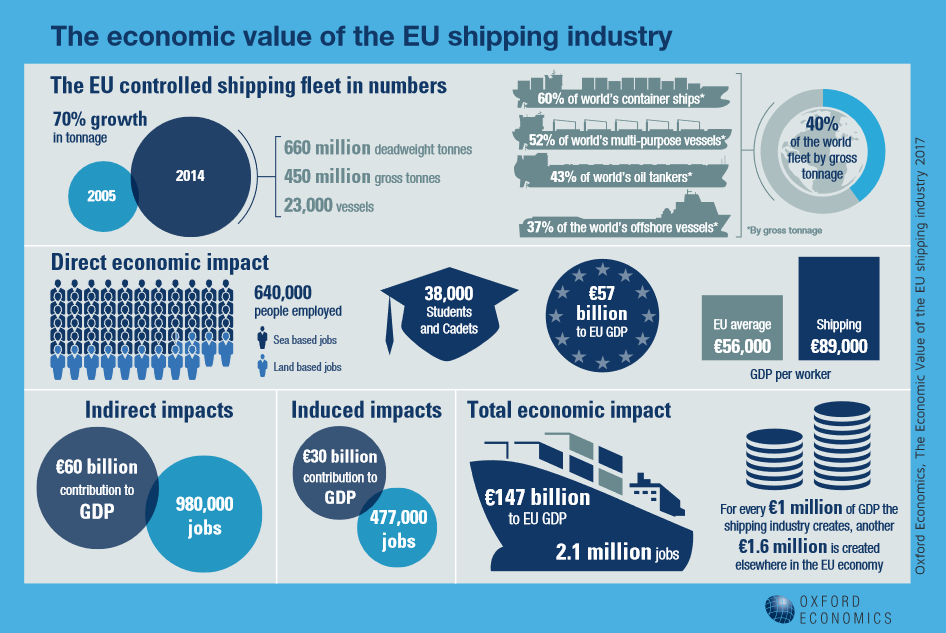 Source: ECSA
Tiina Tuurnala is the Chief Executive Officer of the Finnish Shipowners' Association.
+358 40 5476762
tiina.tuurnala@shipowners.fi