Key figures of maritimetransport in Finland
Maritimetransports in foreign traffic, export and import, increased  in comparison to the year before in 2018. Export transport increased by 2,8 percent and import by 7,5 percent. In 2018 the accumulated amount of goods transported in foreign traffic was 103,8 million tonnes, which is an all time record in Finnish international trade. Export was 52,9 million tonnes and respectively import was 50,9 million tonnes. Transports in transito traffic were 8,3 million tonnes, consequently the increase from 2017 was 10,1%.
The amount of passengers in seaborne traffic decreased som what during the year, to 19,0 mil. passangers.
In the end of the year 2018 there were 110 ships under the Finnish flag.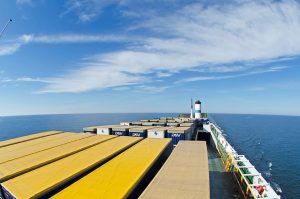 You can read more statistics here: Finnish seaborne traffic 2018
Source: Finnish Transport and Communication Agency  Traficom
Import and Export
About 90% of Finnish import and export is transported by sea.
The passenger ships transport up to 50% of piece goods imports and 60% of exports.
Passenger ships transport 31% percent of total export and 26% of total import to Sweden
90% of export and import to Estonia is transported by passenger ships.
Emissions from seafaring
The international maritime organization IMO has decided to cut greenhouse gas emissions from shipping by 50% by the year 2050.
90% of goods worldwide are transported by sea and they produce 2,6% of emissions.
The carbon oxide emissions of a large containership are 3g/tkm.
The carbon oxide emissions of a cargo ship are 7,7 g/tkm.
Respectively the emissions per plane are 435 g/ tkm and 80g/tkm per lorry.
European Key Figures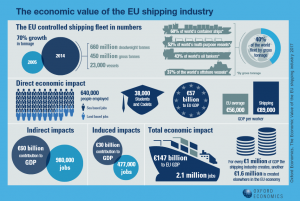 Sorce: ECSA
Tiina Tuurnala is the Chief Executive Officer of the Finnish Shipowners' Association.
+358 40 5476762
tiina.tuurnala@shipowners.fi