Finnish Shipowners to reinforce One Sea: The high profile Ecosystem boosts its Position as the Spearhead of the Autonomous Future of the Maritime World
24. April 2018
The Finnish Shipowners' Association (FSA) has started an intensive cooperation with the international One Sea Ecosystem, striving to enable commercial autonomous maritime traffic by 2025. The aim is to create better conditions for significantly more energy-efficient and safer shipping. 'We want to be part of the leading edge of digitalizing shipping with One Sea', states CEO Tiina Tuurnala of the FSA.
'We're extremely satisfied to gain the competence of the Finnish Shipowners' Association for our rapidly developing cooperation. The One Sea Ecosystem already presents the absolute top in developing international seafaring, but the FSA raises our cooperation to an even higher and robust level', assesses the leader of the One Sea Ecosystem, Päivi Haikkola from DIMECC Ltd.
The now a hundred years old FSA represents 25 Finnish shipping companies and over a hundred ships. One Sea gathers together leading international companies from the top of their individual fields, leading the way towards enabling autonomous shipping by 2025. The ecosystem consists of cutting edge competence offered by its partners: ABB, Cargotec, Ericsson, Finferries, Finnpilot Pilotage, Meyer Turku, Rolls-Royce, Tieto and Wärtsilä, lead by DIMECC.
'Our agreement with One Sea offers us a momentous possibility. Digitalization and automation are rapidly revolutionizing seafaring, and we want to be part of the leading edge of digitalizing shipping with One Sea', reasons CEO Tiina Tuurnala the commencing intensive collaboration.
Energy efficiency and safety are the goals
'The most important visions for us are the positive possibilities of digitalization and automation. We're heading towards a future where seafaring is considerably more energy-efficient and more sustainable. Digitalization also means constantly improving safety. One Sea is a uniquely qualified ecosystem to which we're now able to bring our own remarkable seafaring expertise and the perspective of shipowners. This is a win-win equation, if any', CEO Tuurnala sums up.
In addition to safety and energy efficiency, shipowners pursue more efficiency and optimization as well as improved cost-effectiveness through digitalization and automation.
One Sea's leader DIMECC is the most important innovation platform of Finnish Industry. The ecosystem is financed by Business Finland and the participating companies. The workings of the ecosystem are international.
'Our goal is extremely ambitious: We aim to be the guiding star of international shipping. The possibilities are there, all the participants in the ecosystem are the best in their fields. The input of the shipowners to our joint developing is invaluable', praises One Sea leader Päivi Haikkola.
Further information:
Ecosystem Lead Päivi Haikkola, DIMECC Oy, +358 40 503 8085, paivi.haikkola@dimecc.com
Managing Director Tiina Tuurnala, Suomen Varustamot Ry, +358 40 547 6762, tiina.tuurnala@shipowners.fi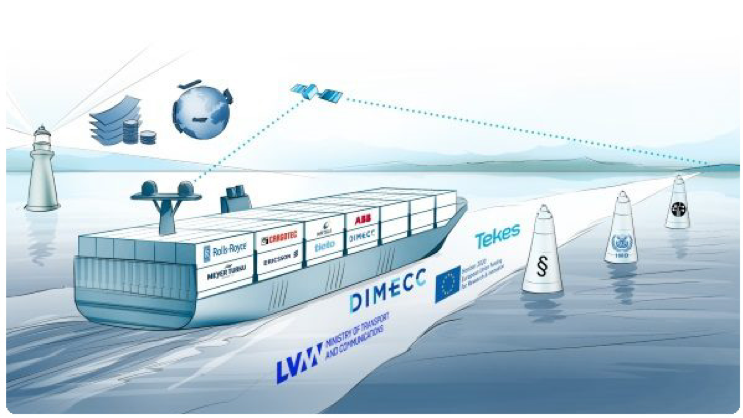 The partners in the One Sea – Autonomous Maritime Ecosystem:
ABB (ABBN: SIX Swiss Ex) is a pioneering technology leader in electrification products, robotics and motion, industrial automation and power grids, serving customers in utilities, industry and transport & infrastructure globally. Continuing more than a 125-year history of innovation, ABB today is writing the future of industrial digitalization and driving the Energy and Fourth Industrial Revolutions. ABB operates in more than 100 countries with about 135,000 employees.
Cargotec (Nasdaq Helsinki: CGCBV) enables smarter cargo flow for a better every day with its leading cargo handling solutions and services. Cargotec's business areas Kalmar, Hiab and MacGregor are pioneers in their fields. Through their unique position in ports, at sea and on roads, they optimize global cargo flows and create sustainable customer value. Cargotec's sales in 2016 totaled approximately EUR 3.5 billion and it employs over 11,000 people.
Ericsson is a world leader in communications technology and services. Our organization consists of more than 111,000 experts who provide customers in 180 countries with innovative solutions and services. Together we are building a more connected future where anyone and any industry is empowered to reach their full potential.
Finferries (Suomen Lauttaliikenne Group) is a state-owned operator of ferry services in Finland. Finferries has over 300 employees working on 44 routes around the country. The head office is located in Turku, with a branch office in Savonlinna. Finferries runs its 24/7 operation according to the three core values: Safety, Service-mindedness and Profitability. Finferries' vessels carry about 4 million vehicles and 10 million passengers each year. Finferries' latest newbuilding Elektra is Finland's first battery driven hybrid ferry, with battery packs charged directly from the grid. Elektra represents a milestone on the path towards clean shipping.
The Finnish Shipowners' Association is a trade association with an interest in industrial and labour market policies. Its members include 25 Finnish shipping companies and 105 ships.
Finnpilot Pilotage's mission is to ensure the safe and smooth flow of maritime traffic. Their work reduces environmental accidents. The company employs over 300 pilotage professionals, who work 24/7 to carry out approximately 25,000 pilotage assignments each year. The company pilots 32% of the ships entering all Finland's ports from more than one thousand different fairways, working tirelessly to provide the safest, highest quality service to their customers.
Meyer Turku Oy employs over 1,800 persons and specializes in building highly complex, innovative and environmentally friendly cruise ships, car-passenger ferries and special vessels. Together with two sister shipyards in Germany, Meyer Werft in Papenburg and Neptun Werft in Rostock, Meyer Turku is one of the world's leading cruise ship builders. The successful shipbuilding tradition in Turku has been continuing since 1737. The company is currently building cruise ships for TUI Cruises. The company will also build two cruise ships for Costa Crociere, Carnival Corporation and Royal Caribbean International.
Rolls-Royce's vision is to be the market-leader in high performance power systems where our engineering expertise, global reach and deep industry knowledge deliver outstanding customer relationships and solutions. We operate across five businesses: Civil Aerospace, Defense Aerospace, Marine, Nuclear and Power Systems.
Tieto aims to capture the significant opportunities of the data-driven world and turn them into lifelong value for people, business and society. We aim to be customers' first choice for business renewal by combining our software and services capabilities with a strong drive for co-innovation and ecosystems.
Wärtsilä is a global leader in smart technologies and complete lifecycle solutions for the marine and energy markets. By emphasising sustainable innovation, total efficiency and data analytics, Wärtsilä maximises the environmental and economic performance of the vessels and power plants of its customers. In 2017, Wärtsilä's net sales totalled EUR 4.9 billion with approximately 18,000 employees. The company has operations in over 200 locations in more than 80 countries around the world. Wärtsilä is listed on Nasdaq Helsinki.
DIMECC Ltd is an innovation hub for digitalizing industry in Finland, bringing together top expertise from research and industry.
Finnish Shipowners' Association